STEM Scouts
Explore Your World: Why read about science when you can just do it?
The STEM Scouts program reimagines creative ways to learn about science, technology, engineering and mathematics (STEM).
Interact with professionals in weekly hands-on lab sessions and discover new things in a fast-paced, thought-provoking, and fun way.
All Youth in Grades 3-5 are Invited to Join STEM Scouts October 1st at 5:30 pm at the Crandon Public Library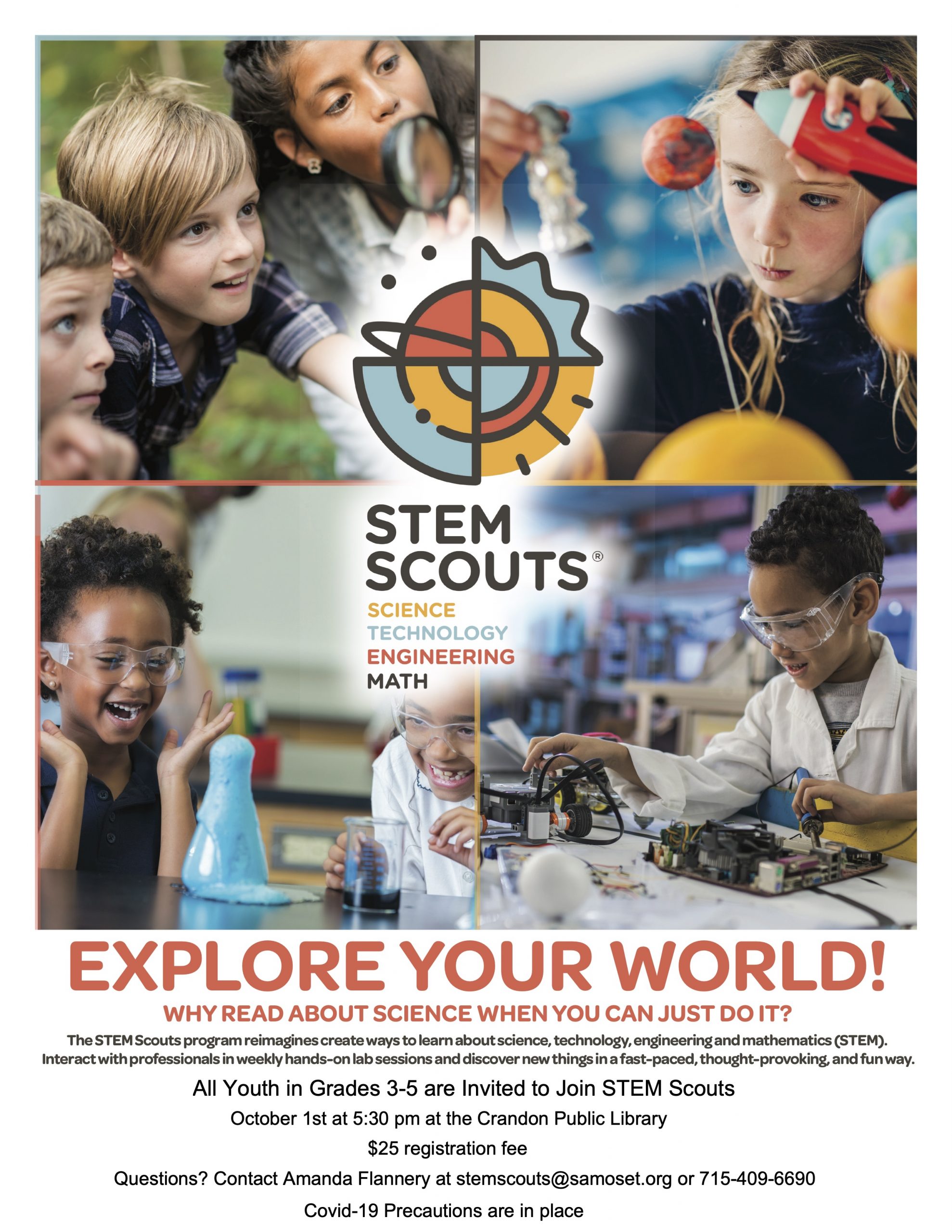 Safer at Home Reading Challenge
Choose the reading log that applies to you. Directions are at the top of the log.
The rules are simple:
1. Read books
2. Log the books on the log that applies to you, or on paper you have at home.
3. Bring your log in when the library reopens and be entered to win a $20.00 Rouman Cinema gift card!
Kids will get 1 entry for every 10 books they read.
Adults will get 1 entry for every 3 books they read.
* Kids who are reading chapter books can fill out the adult log because chapter books are significantly longer than picture books.
*If your child is too young to read on their own, please log the books that an adult reads to them. 
*Books in any format (e-book, audiobook etc.) count and should be logged.
*You do not have to use these log sheets. Any paper you have at home will do!
Drawing will be held two weeks after the library reopens. 
Crandon Public Library
110 W. Polk Street
Crandon, WI 54520
Phone 715-478-3784
Hours
Monday/Tuesday 9 a.m. – 5 p.m.
Wednesday/Thursday 9 a.m. – 7 p.m.
Friday 9 a.m. – 5 p.m.
Saturday 9 a.m. – Noon